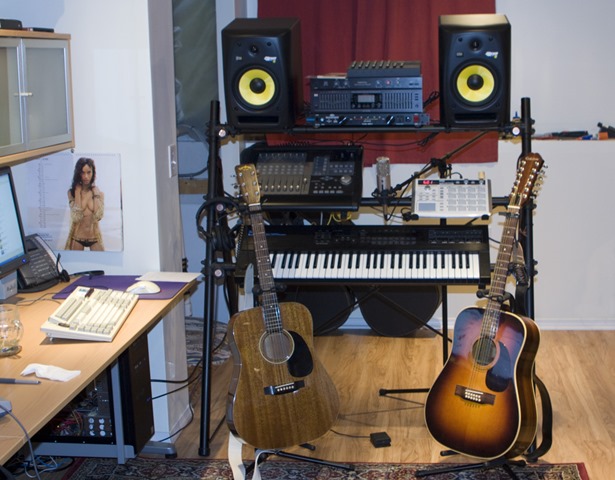 We've put together a small home music studio, built around a Digital Audio Workstation PC running Steinberg's Cubase 5.

The latest addition to the studio is a Korg Radias synthesizer and vocoder module. Four timbres per program, arpeggiator, two step sequencers, and lots of knobs, buttons and flashing lights. Fun!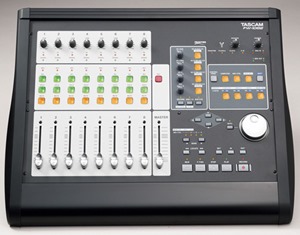 The Tascam FW-1082 Control Surface and audio interface, used to control the DAW. Four microphone inputs, eight line inputs, motorized faders, two sets of MIDI I/O, lights, knobs and buttons.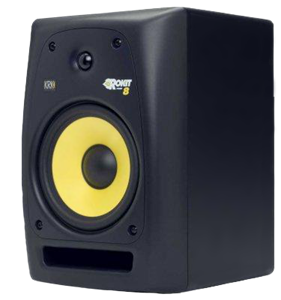 A pair of KRK RP8G2 Rokit G2 Powered 2-Way Active Monitors. Prior to this we'd been limited to headphones, and some low-end computer speakers. Now the noise can annoy everyone in the area. The monitor stands were custom built by my father. They're height-adjustable and look great in the space!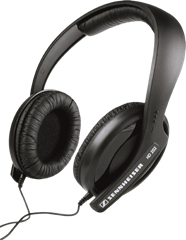 For individual monitoring during recording (especially handy when we're recording a radio play with a roomful of actors), we've got 6 sets of Sennheiser HD202 headphones, as well as a pair of Sennheiser HD280 Pro phones used primarily for monitoring at the DAW.

The headphones are controlled from this Samson S-Phone headphone amplifier. It has four channels, 12 total outputs, auxiliary inputs on each channel for 'more me'. Nice.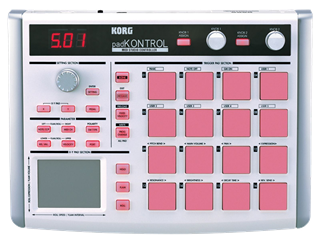 A Korg PadKontrol midi controller for playing rhythm patterns into the sequencer. The pads light up, and they are indeed pink. I'm man enough to deal with it.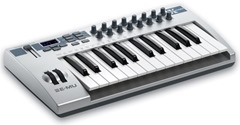 An E-Mu XBoard 25 MIDI controller, used to control software synthesizers. Depending on what I'm doing – just plunking out notes or working on something more complex – I'll either use the E-mu or this next item…

My Roland D-10 Synthesizer. My wife bought this for me around 1988 or so. It's in nearly mint condition, and though it's arguably 2 decades out of date, I still love the Roland sounds. Plus, the keys feel good.

Power protection for all the audio gear is provided by a Furman PLPLUSII Power Conditioner. Got to keep the expensive bits safe from power surges!

For vocal and acoustic instrument recording, we have four Studio Projects B1 microphones and tripod boom microphone stands.
Virtual instruments include MOTU Ethno (excellent sounds), IK Sonik Synth 2 (great all around sampler workstation), Korg M1 and Wavestation (I love those 80s sounds), and Crystal, which is an amazing piece of free software.
I have two acoustic guitars – a beautiful mahogany Martin Sigma DM-3M six string from the early 1980s, and an Epiphone PR-715-12-ASB (couldn't they come up with a better name?) twelve-string from the late 1970s.