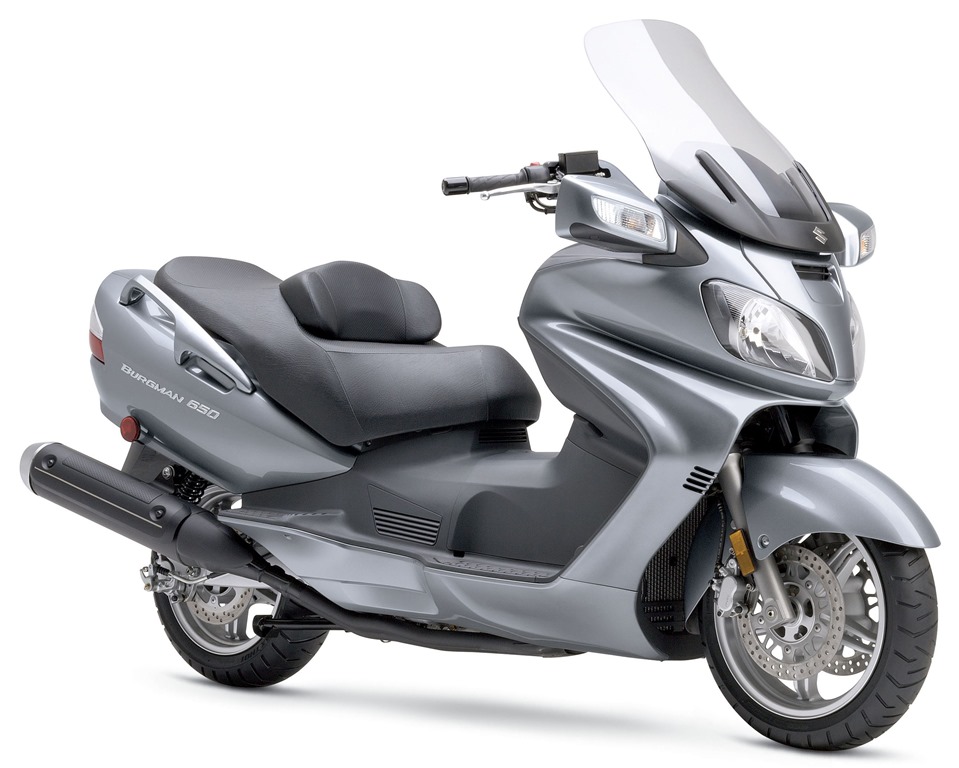 In early April, 2007, I finally made the leap and bought myself a scooter. I started wanting one following a trip to Bermuda, where scooters are pretty much the standard vehicle everyone rides. I did a lot of research over the next six months, starting with little Vespa's and gradually looking at ever-larger scoots until, naturally, I settled on the biggest scooter currently made. That always seems to happen with me – I end up with the biggest, or fanciest, or most feature-rich version of whatever I happen to be shopping for.
As this was last year's model, I got a good deal on it, saving about a thousand dollars over the current year pricing, and getting the color I wanted. Silver-gray, as pictured above. Otherwise, brand new, with less than two miles on it when I took delivery. Turns out, this isn't really a scooter – it's a motorcycle with a step-through frame and automatic transmission. It's no crotch rocket, but it'll easily keep up with any cruiser on the road.
Having put almost 5000 miles on it in the first summer, I'm well through the break-in period. In commuting, I'm getting about 49 mpg. On road trips, I get anywhere from 52 to 55 mpg. With gas prices over $3 per gallon, this is a pretty nice warm-weather alternative to the car or minivan.
I've added some extras :
Givi E52 trunk, black with integrated brake lights
Medium tinted ClearView windshield with vent
Kuryakin ISO Grips #6180 and Throttle Boss #6250
Polly grip heaters
LED turn signals on the mirror housings
RAM mount and power for my Garmin 60CSx GPS
My safety gear:
Bell Mag-8 three-quarters helmet, silver
Tour Master Cruiser gel gloves (warm weather)
Castle Mid Season gloves (cold weather)
FirstGear Mesh-Tex 3.0 jacket
FirstGear Kilimanjaro 4.0 textile jacket
FirstGear HT II textile overpants