Dan Bern is a singer/song-writer who might be placed in the 'folk music' genre, assuming a suitably flexible definition of 'folk music'. Make it an extremely flexible definition, though. He doesn't like to be put in boxes.
Though in recent years he's gained quite a following, I've known him for a long time. I first met Dan Bern in the early 1980s. Dan was playing a coffeehouse at Elgin Community College in Elgin, Illinois and my family went to see him, just by chance. Turned out to be a pretty good bit of luck. After his performance was over, we took him out to eat at a nearby open-all-night Shoney's Big Boy, where his stream of consciousness conversation and jello-snarfing skills entertained the hell out of us while at the same time annoying the restaurant staff. You can't buy that kind of fun!
After that we made a point of seeing Dan play whenever we could, and had him out to our house several times for dinner. In 1985 I arranged for Dan to perform at Northern Illinois University. I was a lousy organizer, so not many people showed up, but Dan put on a hell of a good show for the few who did attend. Some of the MP3 files here come from a tape I made directly off the sound board at that show. The same week at NIU, Dan performed outdoors in the mall area, and played a song about the nuclear power plant in Byron Illinois as part of a public discussion on nuclear energy at the student center. He wrote the song on the bus on the way to NIU from Chicago.
When he performed at NIU, Dan lived in my dorm room for a long weekend, and we spent the time eating lots of pizza and playing guitars, which was quite an experience. A lot of my guitar style (and play list) after that time was heavily influenced by Dan.
MP3 Files – The 1985 Songs
I recorded these songs directly from the sound board at a "coffee-house" style concert Dan gave at Northern Illinois University's Grant South Towers residence hall in 1985. The recording quality isn't fantastic, as I used a beat up Radio Shack tape deck and cheap tapes.
Freight Train Blues
A Day At The Ballgame
Wheel You To Canada
The Dream Girl Waitress Blues
Name Withheld By Request
Jezebel
Dancin' Shoes
The Worst Timing In The World
Josephine And Ernest
You Can't Ever Own Me
O Canada
They Don't Got Baseball
Working At The Ritz
He Can't Hear You
Patricia And Virginia
They Got The Wand
Freedom Of Choice
Pauline
The Other Day At Dinner
Street TV
Love Song
MP3 Files – January 6, 2001 NPR
National Public Radio – Dan was on NPR to respond to stories about a guitar smashing incident at a concert some weeks prior.
My family and I eventually lost track of Dan after he moved from Chicago to California, and I didn't hear anything about him until 1996 when I ran into some other Dan fans on the Internet. It's great to find that Dan is finally getting the recognition that he deserves, even if people keep trying to put him in too-small boxes, and it's nice to know that we were right when we recognized a great talent.
Photographs
Below are some old photos of Dan. The first is one I took of Dan relaxing before a concert in Beloit WI, on September 12, 1997. The others were all taken by my dad, Tony Schreiber. And yes, the goofy guy wearing the engineer's cap in the last photo is me. Remember – that photo is more than 20 years old. I'm a lot goofier looking now!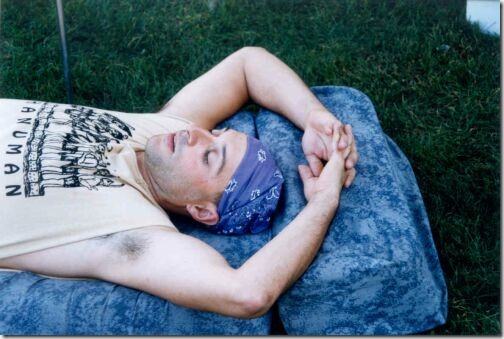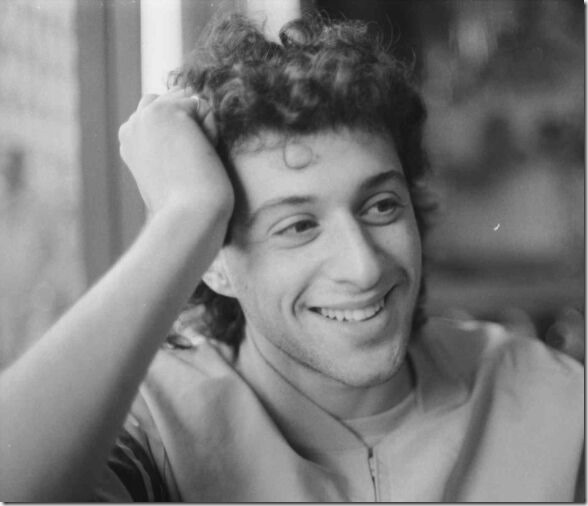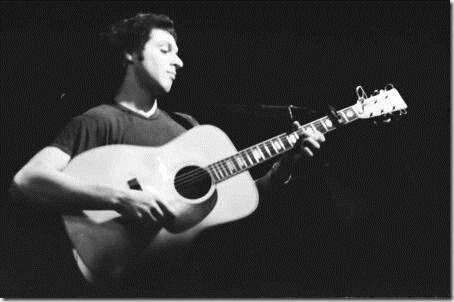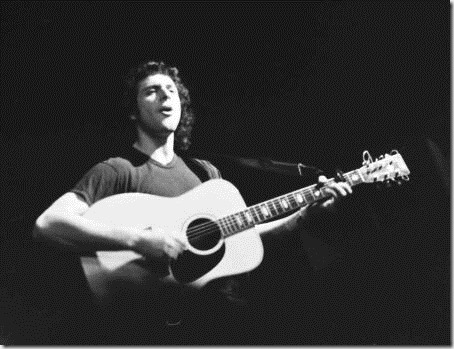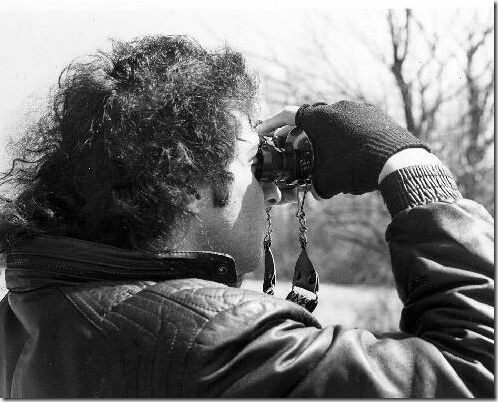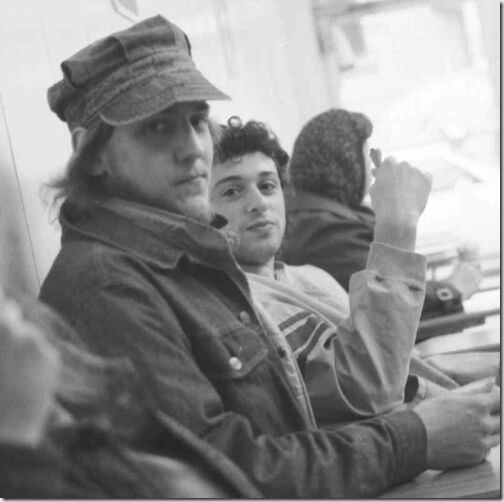 A scan of partial lyrics and chords for "Dancing Shoes" and "Love Song". Dan wrote these on the back of a movie advertisement flier for me while waiting to go onstage at NIU in 1985. You can read where the tagline from the movie ("We're looking for a few bad drivers") bled through from the other side.