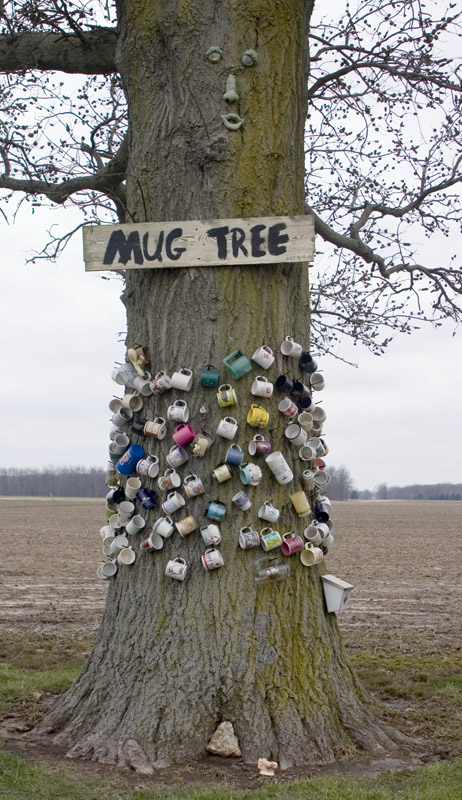 One of my hobbies is geocaching. It takes me to places I wouldn't otherwise ever go, and lets me see some unusual things. This past weekend my wife somehow convinced me to get up at 8 am and head out on a day-long caching trip. I wasn't opposed to the caching, or the day-long part, but the 8 am, on a Saturday of all things, was tough. I'm glad she convinced me, though, as it proved to be an excellent day.
We first drove to Urbana, Illinois, to pick up her brother who is also an avid geocacher. He and I are both working on some geocaching challenges, one involving finding a cache in every county in the state, and another to find a cache on each page of the Illinois DeLorme atlas. While he's got the advantage of being more centrally located in the state, the real reason he's kicking my butt on these challenges is that the dude can optimize a route like nobody's business. Where I might ride around all day and find a few caches in a handful of counties, with him in the navigator's seat we traveled 250 miles, picking up eighteen new caches in ten different counties and covering six atlas pages. My best. day. caching. ever.
Along the way we saw a lot of cornfields (this is Illinois, after all), some really nice and unexpected forest areas and a big honking lake. But the one thing that really stood out was the tree pictured above. We came for a geocache called Mug Tree, not knowing that there was a real-by-god-literal-mug-tree awaiting us in the middle of nowhere. The cache description calls it a "spontaneous gesture of amusing goodwill designed to bring a smile to the faces of passing strangers", which pretty much seems to sum it up. Nice to see whimsy is alive and well in the countryside.